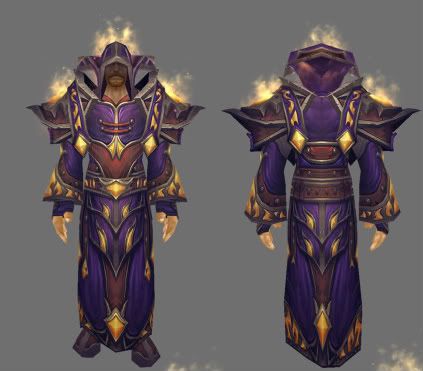 What can I say about the new Priest Tier 10? (Other than the fact it looks really, really cool) The new tier 10 I believe truly embodies the spirit of a priest. Red and purple is a very regal/ceremonial color, especially for those of extreme importance. The gold embroidering and magic glow do well to represent the holy specialty of a priest. We all know that priests are people of extreme importance right? Of course, that is a bit self-conceded, but that's okay. I completely analyzed the crap out of the new tier, and I hope you find it an enjoyable read.
Hood/Shoulders
The hood of the regalia is very similar to that of many other priest models, such as priest Tier 5 and 6. The shoulders follows previously used concept of shoulders. They follow the favorite Tier 1, 2 and 5 concept of shoulders modified to fit the regal theme they seem to be going for. The gold magic does well to represent the spirit and holiness that a priest would have.
The Robe
The robe is well decorated with multiple gold embroideries and red cloth overlapping the regal purple presented as the robe fabric.The silver lining of the purple and red fabric is subtle but does well to pull the whole outfit together. The gold of course is there and in my opinion, fully completes the outfit of a priest.
The Psychic Reader
The tier 10 matches what a priest should look like, especially in WoTLK. I would also like to point out that reader Erinys totally called the look of the new tier. I think it was a good guess. Here was his post.
As for graphics, I'm expecting something dark, possibly purple.
So, I would like to hear from the readers. What do you think about the new priest tier 10?